This is a story I would like to share with you all.
It is a story of courage, a story of love, a story of the extraordiary lives of two women over two hundred years ago.
You can listen to the always brilliant Documentary , See link below but maybe first read the story, and view the images?
Enjoy!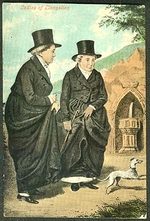 Add caption
An Extraordinary Affair
from the RTE website
The Ladies of Llangollen as they came to be known, were two upper-class Anglo-Irish women from Kilkenny.
Eleanor Charlotte Butler (1739 - 1829) was the youngest daughter of the Butler family of Kilkenny Castle. However, her family had difficulties getting her married off - and so introduced her to a young lady - whom they hoped would become her friend and together they could search for two husbands.
Sarah Ponsonby (1755 - 1832) lived with relatives in Woodstock, Kilkenny.
Their families lived only two miles from each other. They met in 1768, and quickly became friends. Over the years they formulated a plan of a private rural retreat. Rather than face the possibility of being forced into unwanted marriages, they ran away together in April 1778. Their families hunted them down and forcefully tried to make them give up their plans - in vain.
They decided to move to England but ended up in Wales, and set up home at Plas Newydd, near the town of Llangollen in 1780.
They devoted their time to seclusion, private studies of literature and languages and improving their estate. They did not actively socialise and were uninterested in fashion.
After a couple of years, their life attracted the interest of the outside world. Their house became a haven for all manner of visitors, mostly writers such as Robert Southey, Wordsworth, Shelley, Byron and Scott, but also the military leader Duke of Wellington and industrialist Josiah Wedgwood; aristocratic novelist Caroline Lamb, who was born a Ponsonby, came to visit too. Even travellers from continental Europe had heard of the couple and came to visit them, for instance Prince Hermann von Pückler-Muskau, the German nobleman and landscape designer who wrote admiringly about them.
The Ladies were known throughout Britain, but in fact led a rather unexciting life. Queen Charlotte wanted to see their cottage and persuaded the King to grant them a pension. Eventually their families came to tolerate them.
Butler and Ponsonby lived together for the rest of their lives, over 50 years. Their books and glassware had both sets of initials and their letters were jointly signed.
Eleanor Butler died in 1829. Sarah Ponsonby died two years later. Their house is now a museum run by Denbighshire County Council. Both of the ladies are buried at St Collen's Church in Llangollen.
Produced and narrated by Leeanne O'Donnell
Production Supervision by Liam O'Brien
First broadcast Saturday 30th April, 2011
An Irish radio documentary from RTÉ Radio 1, Ireland - Documentary on One - the home of Irish radio documentaries.
As always it is so nice to know I have your company.
If you like to comment on any of the above, would you be so kind to write it in the comment box below, instead of on
Facebook
? This way other blog visitors can read it too, and I don't miss your comment when I am not logging on to
Facebook
. Thank you X